2009.10.18
[Updates]
Message from Sebastián Cordero, Director of Rabia(Competition Section)
TIFF is honored to receive message from Sebastián Cordero, Director of
Rabia
, the film for Competition section screened on following schedules!
Oct. 18th (Sun) 21:30 (Door opens at 21:00)
Oct. 22 (Thur) 17:50 (Door opens at 17:30)
Ticket
:
Oct. 18th (Sun)
Walk-up tickets available at t-pia
(Purchse procedures in Japanese only)
Oct. 22 (Thur)
Walk-up tickets available at t-pia
or
at l-ticke.com
(Purchse procedures in Japanese only)
Director's Message
:
After having killed a man, José María chooses to hide inside a mansion and becomes invisible in order to remain close to the person he loves. Without anyone knowing he is there, he becomes a ghost-like voyeur and a witness to what is happening in the house. Half-heard conversations; dramatic moments interrupted by the risk of being discovered; characters partially glimpsed from the shadows: José María's day-to-day life is marginal. He is like a wild animal: afraid of being discovered, and afraid of what he himself might discover about Rosa, the woman he loves, who works and lives in the mansion, so close to him yet unreachable.
José María leads an invisible and lonely life, and like many Latin American immigrants in Spain, his only comfort comes from the hope of a reconnection with his loved ones. It doesn't matter that he and Rosa have only recently met: when he finds a second phone line and contacts her again, his discovery fuels the hope for a reunion one day. José María calls Rosa in a continuous shot that connects them for the first time in weeks, starting with him dialing then travelling through the house towards a ringing phone in the living room below. The smooth, ominous steadycam movements enhance our feeling that he is becoming the eyes and ears of this mansion, sharing a space with Rosa without being able to touch her.
Aesthetically, the film goes from a relatively "conventional" visual narrative to some very extreme and stylized moments, which reflect the changes and decay inside José María, as his isolation wears him down. His conversations with Rosa become the heart of their "long-distance" relationship, as months pass.
While they fantasize about a life together, the decadent mansion only reflects the remains of what are now extinct moments of happiness. Most of the memories there have been stored in the attic where José María hides, and they feed his dream of one day having a family. Ironically, the Torres and their children epitomize the decay of relationships, and of love: this is a family that has lost the capacity to stay together, except through self-interest or fear of loneliness.
The "rage" in
RABIA
alludes to José María's growing fury at being denied something basic: respect, love, a family. He rebels by hiding, becoming invisible. José María thinks this is his only option, but his situation is contradictory and hopeless, because ultimately he doesn't want to disappear.
Sebastián Cordero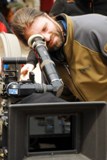 Rabia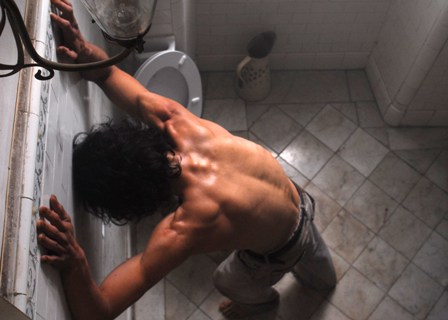 Telecinco Cinema S.A.U, Producciones Rabia LTDA, Think Studio S.L
Director:Sebastian Cordero
Cast:Gustavo Sanchez Parra, Martina Garcia, Concha Velasco
[Introduction]
A laborer and a live-in maid's relationship seem to end following an incident he brings upon. Withal, he decides to stay by means unthinkable… a fiery love story in eminent filming technique and powerful performance.
[Synopsis]
An immigrant construction worker, José María, spends few days at the run-down mansion owned by the elderly couple which his girl friend, Rosa, works as a housemaid. When José kills the foreman in result of their violent confrontation, he flees to the mansion. Hiding in the vast, abandoned attic he begins a secret life – half voyeur, half ghost - watching the daily routines of Rosa's life. He calls her on the phone without revealing himself and starts a new 'long distance' relationship, both yearning for the day when they can be together again. But a shocking revelation forces him to remain in hiding...