2009.10.21
[Updates]
Message from James DeMonaco, Director of Staten Island(Competition Section)
TIFF is honored to receive message from James DeMonaco, Director of
Staten Island
, the film for Competition section screened on following schedules!
Oct. 21 (Wed) 21:20 (Door opens at 21:00)
Oct. 23 (Fri) 10:50 (Door opens at 10:20)
Ticket
:
Oct. 23 (Fri)
Walk-up tickets available at t-pia
or
at l-ticke.com
(Purchse procedures in Japanese only)
---
Director's Message
:
As a native Staten Islander, I was always, even as a young boy, very well aware of my hometown's unfavorable reputation. Often mocked, but even more often forgotten and neglected by most New Yorkers, Staten Island barely exists outside its own borders.
Staten Island is, by all accounts, the forsaken borough of New York, alone in this stature, a mistreated stepchild of its closest neighbor - the ever-present, ominous borough and centerpiece of not only New York but of all American life - Manhattan.
As any native Staten Islander can attest, Staten Island lives in the grand shadow of Manhattan's wondrous, all-consuming skyline.
This can be a very dark, desperate place to live.
My objective as the writer and director of STATEN ISLAND was to capture the essence of the Island - or what I perceived as its essence - insignificance. And, ultimately, how the borough's insignificance permeates and informs the people who populate this neglected place - as this sense of irrelevance informed my own life as a Native Staten Islander and affected how I viewed myself in society.
I chose to depict three Staten Island men battling this sometimes overwhelming feeling of insignificance -
THE MOBSTER
, as Staten Island has more mobsters than any other borough in New York and as I grew up living next door to several Staten Island Mob families;
THE DELI WORKER
, as Staten Island has more delicatessens than any other borough and as I worked in a local Staten Island deli in my youth; and
THE SEPTIC TANK CLEANER
, as the Island is the only borough still utilizing septic tanks as a means of waste removal.
Ultimately, the film's depiction of these Staten Island men and their struggles, is, in the end, not specific to Staten Island and its occupants - but opens up beyond the borders of New York and essentially reflects upon greater themes of significance, ego, and self-worth, and how any individual in any society defines his or her place - and how incredibly varying these definitions can be.
My intent was not to depict STATEN ISLAND in an ultra-realistic manner - but instead to metaphorically define this unique, forgotten place and its people. The depiction was an amplified presentation, using humor, heightened drama, archetypal characters, crime noir elements, and even absurdity to portray the often desperate plight of these three men in their often misguided search for meaning and self - as my own desperate search for self and significance in the world was often melodramatic, humorous, criminal, and very very absurd.
James DeMonac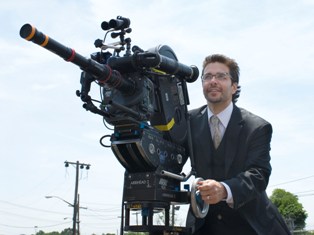 ジェームズ・デモナコ監督
Staten Island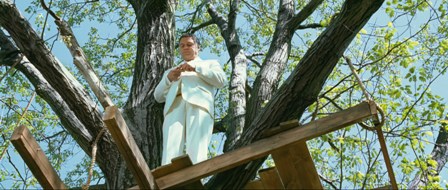 2008 WHY NOT PRODUCTIONS - EUROPACORP
Director:James DeMonaco
Cast:Ethan Hawke , Vincent D'onofrio, Seymour Cassel
[Introduction]
Set on Staten Island, south west of NYC, a gang master, a timid young man, and a mute butcher create three slightly cruel, sarcastic but humorous and stylish stories to resonate among viewers.
[Synopsis]
The lives of three men with their eyes on a bigger prize tragically intersect when blue-collar worker Sully Haverson decides to rob the safe of smalltime mob boss Parmie Tarzo to give his soon-to-be-born child a hope of a better future. Desperate to be remembered for something, Tarzo campaigns to save Staten Island Forest while deaf-mute deli worker Jasper Sabiano disposes of the victims of the mob boss's shadier activities.