2009.10.23
[Event Reports]
Shocking Sexuality, WORLD CINEMA section's, The King of Escape: Oct.20th (Mon) Q & A
22nd TIFF's WORLD CINEMA section film is known for being a topic of the conversation during the Cannes International Film Festival because of its peculiar content and original perspectives of the world.
The King of Escape
.depicts the unacceptable love between the middle-aged gay man and a teenage girl It is a shocking film which questions what sexuality means to men and women with liberal inspirations and images.
After the screening, the audiences were smiling to the Programming Director, Yoshi Yatabe's remark, "I believe there would be many people here who might have thought they've seen something unbelievable."
Director Alain Guiraudie, appeared with an eye-catching pink shirt flinging on the black jacket!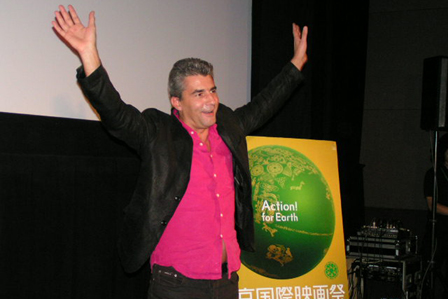 He showed his joy of being able to participate in film festival with
his whole body and saying, "Tokyo Arigato!"
To the question, "Where did the inspiration that surpass the ordinary concept of sexuality come from?" Director Guiraudie answered that it came from the "personal worries that he had."
"I aim to somehow connect the small worries that I have with something else and make it entertaining and global to be acceptable as an idea for the film. I also feel that I should fight back against the standardized world of general-interests. I think that people settle for their own ideas on the mental picture of sex; this is so not just in my own country but also in other countries as well. I want to destroy that sort of thing.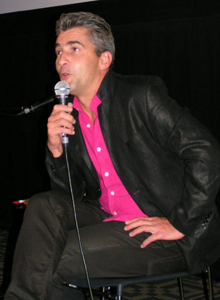 Does the title of
The King of Escape
imply the idea that "Man is an escaper after all?"
"I just thought that the title could set a Hollywood-type of mood. One of the aspects in the film is that the main character is running away from the pursuers but it also implies the characters identity and idea of escaping from the responsibility," Director told us about his intentions for the title.
"And what I literally feel about the film that was so
The King of Escape
about was that the sequence where the main character abandons the poor lady in the roadside," he said with an upbeat-type of humor.
To the question regarding to the next project, he answered, "I have an idea in my head but it still isn't in the stage to let you know." Hearing this, our expectations for Director Alain Guiraudie's further success grew!