2009.10.24
[Event Reports]
Competition section, Eight Times Up: Oct. 21st (Wed) Press Conference
The day 5 of the Film Festival (Oct.21st), Competition section,
Eight Times Up's
Director Xabi Molia and the leading actress & Co-Producer of the film, Julie Gayet appeared in the press conference.
The film depicts the image of a woman who makes the strenuous efforts without giving up, even when she loses both her job and a place to live and experience difficulties repeatedly. She exerts herself like the title of the film which was named after the proverb, "Seven failures then success"!
※The following Press Conference coverage contains the content of the film and elements that refer to the ending of the film.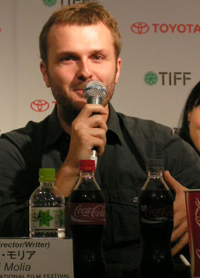 Director Xabi Molia
"I've produced a short film few years ago with Julie which became an inspiration to this film. Actually we've used that short film as the final scene of our film, but when Julie and I saw that sequence, It really made us feel depressed. We thought we were very different from them. So we decided to keep the characters the way they were and just change the way to tell the story. I've read the Director's Message by The Trotsky's Jacob Tierney in this year's TIFF official program book which said, "Setting out to write The Trotsky provoked an identity crisis for me; on the one hand, I wanted to be a Ken Loach and on other hand , I came to realize that I make a very poor Ken Loach," that's the same way I felt.(he laughs)."
Within this film which was made into feature, the important character becomes Mathieu, the Elsa's neighbor.
Director Xabi Molia
"For the role of Mathieu, we wanted to portray him so that his charm would continue to increase, although he wasn't handsome at all in the beginning. When I was asking who would be a good actor for this part, Julie mentioned to me that she saw Denis 4 days ago; he was wearing a beard and looked very handsome and far-out. Denis hadan established reputation with his comical acting performance in France, but I was uncertain if he fitted for this part. In fact, the scene that he swims in nude is also a sequence in which Elsa becomes attracted to him. That is why I requested him to perform with a serious tone. But Denis replied that it was a first time in his life that anybody told him such a thing! I'm not sure because I've never acted that way! "
Julie Gayet
"He is a wonderful actor. I think he is a very sexy person. There are people around me who would deny that, but I think that even if he doesn't comb his hair, he is still
handsome enough for me."
"For Elsa and Mathieu, now that they've come closer to each other; what will become of their future?" and that's when the film ends. The question was asked regarding to the ending, whether they were destined soul mates or not. Director Xabi replied, "The film ends with a hint which implies that the romantic love affair is about to happen. Under the normal circumstances, the story like Hollywood movie would follow and the audience will start wondering. But my film is not intended to be a Hollywood movie and the character who is the heroine of the film is not an adequate character for a romantic comedy. She has lots of worries."
And then Julie Gayet said, "I made a suggestion to make the two of them kiss each
other! But the director said absolutely not," and showed a regretful but adorable
expression. Director said, "I told her that I'd shoot that kiss if I had some time, but
regrettably I didn't like the looks of those clouds and refused her request."(he laughs)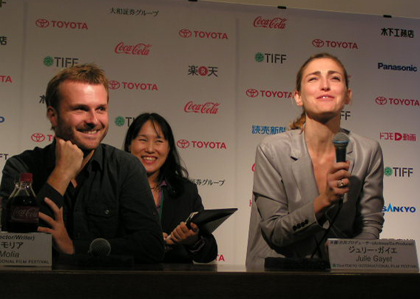 It is unfortunate that Julie couldn't kiss Denis Podalydès who plays the role of Mathieu.