2009.10.20
[Event Reports]
Winds of Asia – Middle East section, Chengdu, I Love You: Oct. 18th, Q & A Report
Q & A session was held after the screening of the Chengdu, I Love You, Winds of Asia – Middle East, inviting the Director Fruit Chan and Producer Chen Weiming.
This film was developed as one of the reconstruction support project for Great Sichuan Earth Quake. The film takes place in Chengdu, the capital of Sichuan Province. The film develops in two different periods, 1976 and 2029. Fruit Chan directed part of 1976.
Firstly, Chen Weiming who picked up the microphone gave his comment, "We haven't depicted the 'earth quake' itself because we didn't want the people of Sichuan Province who were the victims of the earthquake to recall the painful incident. We wanted to depict the bonding of peoples' hearts to give them strength to live.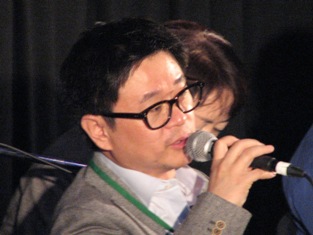 Producer Chen Weiming
After Chen Weming's comment, Director Fruit Chan said, "When the 'Great Sichuan Earth Quake' took place, I was in America, but the details of the disaster damage was reported on the news immediately. While watching the news, I re-acknowledged that the best media to present the tragedy of the earth quake was the news media. But I felt strongly that if I were to shoot the film with Sichuan Earth Quake as a theme, I would take a totally different approach.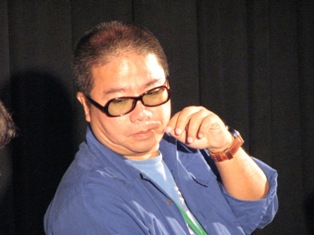 Director Fruit Chan
When an audience asked, "What was the reason for appointing Cui Jian as another Director for the second part of the film?" Chen Weiming replied, "When we made Devils on Doorstep with Director Jian Wen, we had a plan to ask Cui Jian to do the music but unfortunately this didn't happen. This was in my conscience for a long time and when I heard that Cui Jian wanted to shoot the film as a director, I offered this film to him. As you know, Cui Jian is a very talented musician and I was anticipating for his artistic sense as a film Director to bloom. Producer Chen Weiming explained contentedly.