2009.10.24
[Updates]
The Winner of The Audience Award !
22nd Tokyo International Film Festival, Competition section's The Audience Award goes to
The Trotsky!
The film is a piquant adolescent comedy about a boy who believes he is a reincarnation of Leon Trotsky who was an iconoclast and a Red Army hero of the early 20th Century Soviet Union which depicts the commotion of his attempts to reform the school that he attends.
Following the film screening, the theater was enveloped in the mood of frenzy. The marvelously cheerful film successfully received The Audience Award.
The Commendation Ceremony was held on Oct. 24th (Sat) at the TIFFpark, Director Jacob Tierney and the Producer Kevin Tierney appeared on the stage.
Mayor Masaaki Takei of Minato City announced the winner and the commendation certificate, trophy and the prize money were presented to Jacob Tierney.
The customary Happi coat was presented to the winner and Jacob slipped into the Happi coat shyly.
Acceptance Speech
Director Jacob Tierney: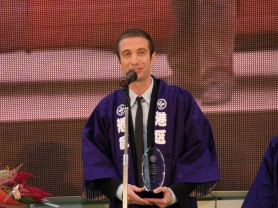 Domo Arigato"
We are so honored to receive this award from the audience here.
We're very moved and very humbled. We wish to thank the Tokyo International Film Festival, especially all the volunteers who worked so hard.
On our behalf and on behalf of all filmmakers, we're very grateful to come here and be treated so kindly by everyone. We had such a wonderful time. Thank you so much.
Producer Kevin Tierney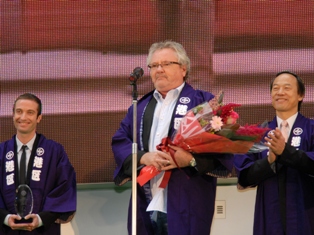 I'd like to echo Jacob's sentences in extending our gratitude to all of the organizers, programmers and volunteers.
(Addressing the full audience filling the theater.)
I see so many parents and grandparents here with their children, I'm not just a producer of the film, I'm also the father of the director; so I'm doubly grateful! Arigato!
The "Audience Award" is presented to the most popular film in the Competition section determined by viewers' votes. The winner will receive a trophy and an award certificate from the TIFF Minato Committee in addition to the prize money.
Congratulations!