2009.10.20
[Event Reports]
Japanophile! Winds of Asia – Middle East, Best of Times: Director Yongyoot Thongkongtoon's Q&A: Oct.19th (Mon)

Winds of Asia – Middle East section,
Best of Times
is a film that depicts an upbeat love story about the two couples from different generations, one a young couple and the other an elder couple. The Q & A session was held after the screening. There were numerous guests who visited the venue regardless of the screening day being a weekday, which reflected the popularity of Director Yongyoot Thongkongtoon who catapulted to the fame with his comedy film, Iron Ladies, which depicted the gay volleyball team in Thailand.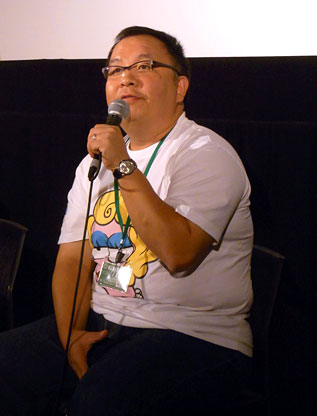 Following the greeting, the Director gave an explanation about his ideas on the film, "I based this work on a short film about the love affair of an old couple which was produced by my student in the film workshop which I was teaching. I also teamed up with three of my colleagues and made the story about the young couples as well. Also, I would be happy if you noticed it, but there is a message in the film about the memories as well," the Director revealed to the audience.
When the reporter mentioned, "I understand that there is a problem about lack of scriptwriters in Thailand…" the Director replied," It is true that there is a problem about the lack of scripwriters in Thailand. Even if writers wrote the script, it is difficult to make it into a film. There are various problems that hinder the scriptwriters here."
"But luckily, I have a staff who understands me as well as respects me and who I can depend on as if depending on my wife. But unfortunately she isn't my wife (laughs), just a reliable staff who can work as my wife."
"She is truly a remarkable person and I hired her as a scriptwriter. Probably she is the only person who is a full time scriptwriter in Thailand now," the Director commented.
"The distribution of Japanese films in Thailand has increased in past 3 years and currently
ROOKIES
is shown in the Thai theaters.
Okuribito, "Departures"
was also shown just recently," mentioned the Director who knows a lot about Japanese animations, films and drama and is known to Japanophile. He explained to us that the chances of watching the Japanese films in Thailand has increased with a big smile on his face..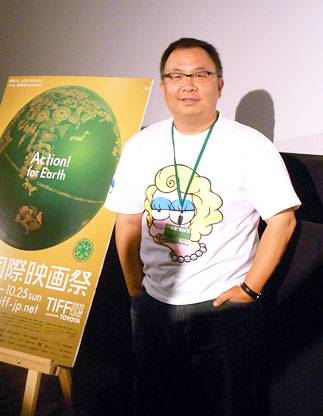 Director Yongyoot wearing Anime T shirt